A bomb blast ripped through the new city area in Bharatpur today. 12 people were killed and 50 injured, 10 of them critically.
One of the injured was identified as the perpetrator of the bomb blast. He later confessed to the police, and was produced before the District Magistrate where formal confession was recorded. He is identified as Ahmed Guru Chaudhury (23) of Secularpur.
Many of the victims' family we interviewed have expressed joy on the fact that Chaudhury had not been killed in a police encounter earlier.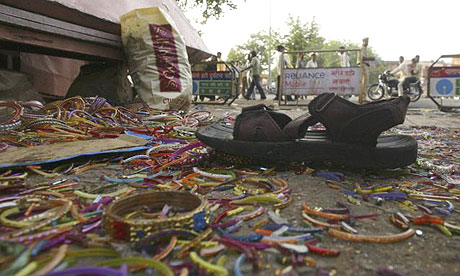 Site of bomb blast
Policemen's Gesture to Protect Human Rights
Ahmed Singh Chaudhury was arrested last year by the state police, carrying automatic weapons & explosives. While he was being transported to the prison, his accomplices tried to ambush the police vehicles. In a noble gesture of preventing a human rights abuse, police did not return the fire . Three policemen lost their lives, and Ahmed Guru Chaudhury escaped from custody. Since his escape, he has surfaced only now in the latest bomb blast.
Civil Society Reacts
Civil rights activists have demanded the release of Ahmed Guru Choudhury, and called his arrest another act of victimization by Gujarat govt because the victim belonged to Secularpur, and was practicing a minority religion of Secularism. Ms. Feasta Mentalward, a well known activist for secularism filed a plea in the High Court today asking for the release of Mr. Chaudhury.
It should be noted that a few years back, a group of suspected terrorists was killed in the most shameful way that shocked the entire human rights establishment. The motive of terrorists was understood only to be
chhota mota bomb blasts
, intended to kill about 100-200 people which the blatantly communal government of Gujarat did not allow.
Kin of three of the victims who died in the bomb blasts today told the reporter that they were rejoiced with the fact that the blast perpetrator Ahmed Guru Chaudhury wasn't killed in a police encounter last year. They said that it's a matter of pride for them that bomb blasts were conducted by a terrorist who did not have to face an encounter death like many others who try to indulge in terrorism. "Human rights of terrorists, Maoists and Naxalites is paramount to retain the secular fabric of our nation", said one of the injured who was interviewed in the hospital.
The blast victim who welcomed bomb blasts and condemned encounter killings of perpetrators.
Secular Parties Issue Statements
Change in approach towards human rights of terrorists by victims and their kin is a change that has been welcomed by mainstream secular parties. Indian Secular Kaungress spokesperson Mr. KhodVijay Singh released the official statement - "We welcome the sensitivity of victims and their kin towards the human rights of disenchanted secular well-wishers like
Shree Ahmed Guru ji
". Ravind Khajurwala of Vaam Aadmi Party talked about releasing some exposé on some politician, to prevent such incidents in the future.
JuD(U) spokesperson Mr. Natakish Kumar said, "The reason why such terrorists are born is because majority wears
Tilak, not Topi
. By celebrating bomb blasts & rejecting police encounters of terrorists, victims have shown that secular fabric of India is still intact", he also added referring to a his rival in a veiled attack, "and will only break when
Safed Daadi
turns black".
Indian Secularism Withstands Test of Time Again
"It's a welcome sign that Indian citizens have now matured to understand that human rights of terrorists should be defended, even if it costs citizens lives in bomb blasts", said the famous sociologist, Dharm Nirapeksh Singh Yadav.
Indian secularism has withstood another test of time. This is a paradigm shift, where victims of terror attacks now prefer to die-in and in fact rejoice bomb blasts than have terrorists eliminated in extra-judicial killings, which is a naked abuse of human rights.